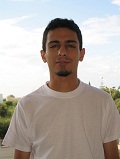 Electronics Engineer
Michalis is our on-site electronics engineer.   Actively involved on a daily basis with the installation team, Michalis provides the electronics know-how for the team and enjoys the installation side of the business as much as he does the electronics side.  He also helps  keep the team organised, taking care of the daily time sheets and work reports.
Before joining A.L.A., Cypriot born, Michalis was a Radio/Transceiver Installation Technician, actively installing radio and marine radio antennas on vehicles, boats, commercial ships, gantry cranes, buildings and radar masts and gained extensive experience with optical, coaxial and network cabling, service and repairs to basic hardware equipment, transceivers, audio amplifiers, microwave receivers and switching power supplies.
Certificates & Diplomas
Electronics & SMT Electronics from 1st Technical College, Limassol.
Certified to ISO 9001: 2008 Standards.