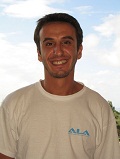 Electronics Engineer
Adrian is one of our electronics engineers, based at our workshops in Ayia Napa.  His day-to-day activities are to provide support, maintenance, repair and servicing to any sound, light, vision and automation equipment.  In addition Adrian provides his extensive IT and computer knowledge as back up support should we need it.
Totally hands-on Adrian, who originates from Romania, is one of those electronic whizzes that can fix anything from a mobile phone to a moving head light projector.  Before joining A.L.A., Adrian worked in architectural design but is a qualified electronics engineer / debugger, processor computational techniques engineer and web editor.
Certificates & Diplomas
Certificate of Graduation from Vocational School, Romania in Electrical Engineering.
High School Diploma in Electrical Engineering.
Certificate of Graduation of Electronic Engineers from Vocational School, Romania.
Diploma in Computer Operations and Techniques.