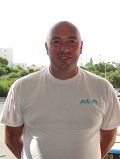 Senior Installation Engineer
Paul Monk is one of the company's senior installation engineers.  He energetically assists the project manager and supervises the installation of audio, light, vision and automation equipment at our client's premises.  Paul is completely 'hands-on' actively collecting all the required equipment from our storage facility in Larnaca and covers all electrical installation requirements, from running and installing cables, soldering electrical and electronic connections, mounting of sound, light and vision equipment and suprvises in electronically testing all said equipment and installations to confirm they are working correctly and are installed electrically to EU standards.
Before joining A.L.A., Paul was based in South London, providing a self employed or subcontracting electrical installations service, to several UK companies primarily within the nightclub, leisure, exhibition and cinema industries.  Paul's installations have included Surbiton Film Studios, IMAX 3D Cinema, a innovative Sub-marine Visulator and a few Earls Court Exhibition stands.
Certificates & Licences:
Fully Qualified Electrician to 236 Part 1 & 2 Electrical, Electronics.
Health & Safety.
Drive & Survive.