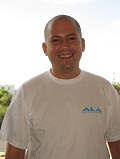 Service & Installation Technician
Andy is an integral part of our installation team.  Hands-on, he assists the team in the on-site service and installation of all audio, light, vision and automation equipment.   Andy's daily activities cover everything; from running and labelling cables and servicing equipment to cutting holes, rendering, mounting equipment into AV racks and fixing equipment to strategic internal and external on-site surfaces.
Before moving to Cyprus to join A.L.A., Andy had his own construction company in North London and has extensive experience in the set up of equipment for events and nightclubs in the UK.
Certificates & Diplomas
Higher National Diploma in Business Studies.
BTEC Advanced GNVQ in Business Studies.
Health & Safety at Work.
First Aid at Work.